Join Qwork's
Affiliate Program
At Qwork, we believe that quality work starts with quality office furniture that's actually affordable. By using some of the same manufacturers as the big names in the business, we are able to sell the same quality furniture at better prices.
Program Highlights
We are constantly optimizing and updating our inventory so we make sure you can maximize your sales with high-demand, trending office furniture products and accessories.
Up to 10% Commission
Average order value of $120
15 Return Days
Promotions up to 40% off
Already part of Rakuten Affiliate? Login Here
If your site has visitors interested in office chairs, desks, gaming chairs and office accessories, then becoming an affiliate will help you to earn money.You receive a commission when a visitor places an order within 15 days of clicking through the link on your site.
Banner Samples
We offer a variety of graphic assets, like banners, buttons and text links highlighting our wide range of products and special offers.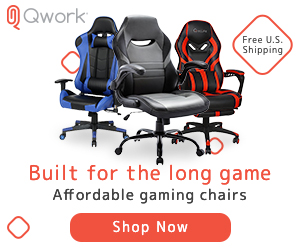 Join Qworkoffice.com's Affiliate Partner Program today and start earning commissions on sales made through your website! The more you sell, the more you'll make!
Already part of Rakuten Affiliate? Login Here